Close up of Jackie's monoprint.
It has been a while between posts, the closure of the mail order business generated a huge amount of interest and I was inundated with orders.
The website is now closed and I hope to be able to get all the outstanding orders posted by Thursday 3rd September at the latest. I had several offers to buy the business - but I wanted to keep the mailing list - for my newsletter and my online teaching when it eventually happens.
As I am no longer tied down by the mail order business, I can travel for longer periods of time - watch this space. There will soon be news about me teaching more workshops in NZ 2017 and a new teaching tour of the United States 2017/18. It's all very exciting.
It was the 3rd weekend of ExTex 4 on the weekend of 22/23 August. The 3rd weekend means colour theory and mono printing. I know we rarely use colour theory, but is important to know how it works if there is something not 'balancing' right in your work. Once you have painted a colour wheel and mixed the colours for the tints, tones and shades chart - you will have a bit more of an idea and have all the information you need to refer back to.
I always paint a colour wheel along with the group - you can never have enough practice. Mine is usually the messiest - but the information is there.
Painting the colour wheels and the tints, tones and shades chart.
I have never yet achieved a violet - more of an aubergine!!! No matter which shade of red/pink and blue I use. One day . . .
After a day discussing the homework and colour theory, it is good to let off steam, so we spent the Sunday mono printing. I love mono printing. It is the simplest form of print and you can achieve some fabulous effects. To use as backgrounds to print on further, or just for the beauty of themselves.
All you need is a roller/brayer and an old acetate sheet or laminated paper to roll out on. Simples!
I love Rosie's face in this shot!!!
We printed onto various fabrics and papers using simple resists and tools.
As you can see, this was a very free session, I try to balance the activities so if there is a day of 'hard work', then the next day is playful.
The next session is on 12th and 13th September - this will be the large scale still life drawing . . . . no pressure then!!!!!
I taught a great group of ladies at The Bridge in Brighton last weekend, I will post about that on Tuesday.
I have a little R & R booked this Bank Holiday, in between packing up orders ready to post . . . I am off to stay with my matey Susan Chapman on Bank Holiday Monday. Her Open Studio (www.susanchapman.com) is on, so it will be great to see that, then in the evening we will be discussing our joint exhibition next March. Yes!! I am actually going to create some new work!!! It will be a shock for me too . . .
Then I am off to Suffolk on Friday 4th September with another matey, Wendy Dolan. We are both teaching on the East Region Residential Weekend at Belsey Bridge Conference Centre. It should be a fabulous weekend. I am very much looking forward to meeting my group who are doing my workshop - Design to Stitch. It will also be wonderful to spend some time with Wendy. We are great friends, live in the same town - and never see each other as we both travel so much. We are sharing the journey from Sussex to Suffolk - so we will have a good catch up - Yipppeee!!!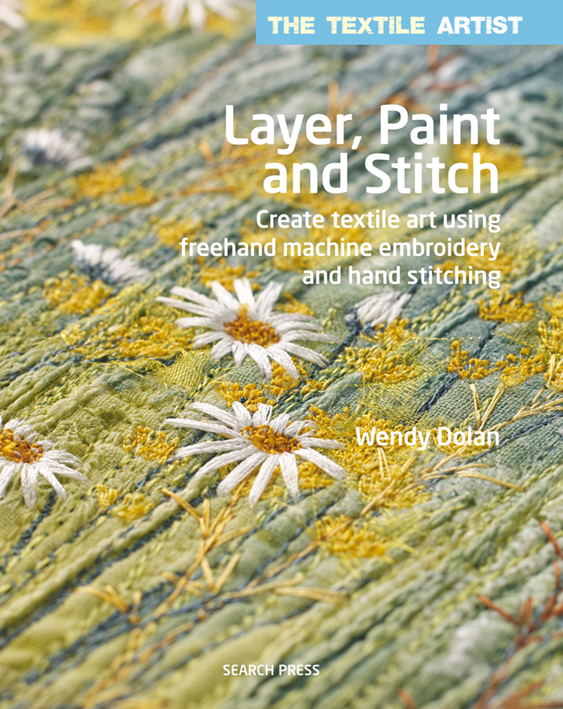 Wendy has her first book out - it is fabulous. You can buy it from her website.
So - lots to show you next week.
I hope you are having a great weekend.